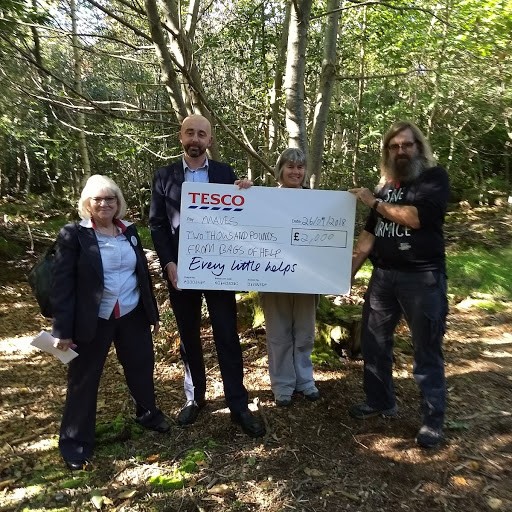 Mid Arun Valley Environmental Survey is delighted to announce it has "bagged" £2000 from Tesco's Bags of Help community grant scheme - as has been reported in the Littlehampton Gazette.
Millions of shoppers have voted in Tesco stores up and down the country, and MAVES would like to thank the shoppers in Littlehampton and Rustington for their support for our lovely local endangered dormouse.
"Once found throughout England and Wales, dormice are now a threatened species, needing to be legally protected. These tiny, golden brown animals are considered an excellent indicator species of biodiversity but numbers appear to have tumbled by 70% in the last two decades.

We have, recently, discovered and recorded, the existence of hazel Dormice in the ancient woodland of both Tortington Common and Binsted Woods.

The aim of the MAVES Tortington Common Dormouse project is twofold…both to continue to record the existing dormouse population on the Common and to create conditions to make the area a dormouse stronghold. The award from Tesco's will enable us to fund 50 dormice boxes being made and positioned in a quiet area of ancient woodland . It will enable us to track numbers and all being well, to help ensure a sustainable population of these enchanting animals within West Sussex. It will also enable us to train at least one more volunteer to be able to qualify for a dormouse license.

We are delighted to be able to report that Ford Prison has kindly offered to make the dormouse boxes. The Horticulture section of the prison will be responsible for making these during the winter, when it is harder to be usefully employed on site outside. MAVES is very grateful to the prison for their input and support, and feel this is an excellent way to involve offenders in the local community. This could be extended by, hopefully, some interested offenders becoming active in our sustainability/environmental projects".
MAVES is a local voluntary environmental organisation with the one objective of recording, promoting and conserving all local flora and fauna. MAVES has completed it's second year report, which is available on-line at www.aruncountryside.org/surveys . MAVES is the environmental action division of Arun Countryside Trust (registered charity 1180078), and is welcoming new volunteers.
Tesco's Bags of Help is run in partnership with environmental charity Groundwork, and sees grants raised from the sale of carrier bags awarded to thousands of local community projects every year. Since launching in 2015, it has provided more than £56 million to over 16,000 local community projects.